In the last century, so much of Hollywood's production methods have changed. The technology used in motion pictures is well beyond what anyone could've imagined decades ago.
To make the best out of any movie, TV, or photo shoot, you need a historic Los Angeles soundstage like ours, which is fully equipped with everything. In this blog, we'll lay out what Mack Sennett Studios can offer. Our location has been a timeless entertainment industry staple for many reasons.
Comparing the production used silent films that were developed in Mack Sennett Studios in 1916 to the type of equipment and technology needed to produce a motion picture in 2019, the production methods would be unrecognizable. Withstanding the development and keeping up with the pace of technological evolution is one of Mack Sennett Studio's best features, and offering a sound stage that continues to expand it's capabilities with state of the art equipment is how the studio has remained a timeless institution throughout all these years.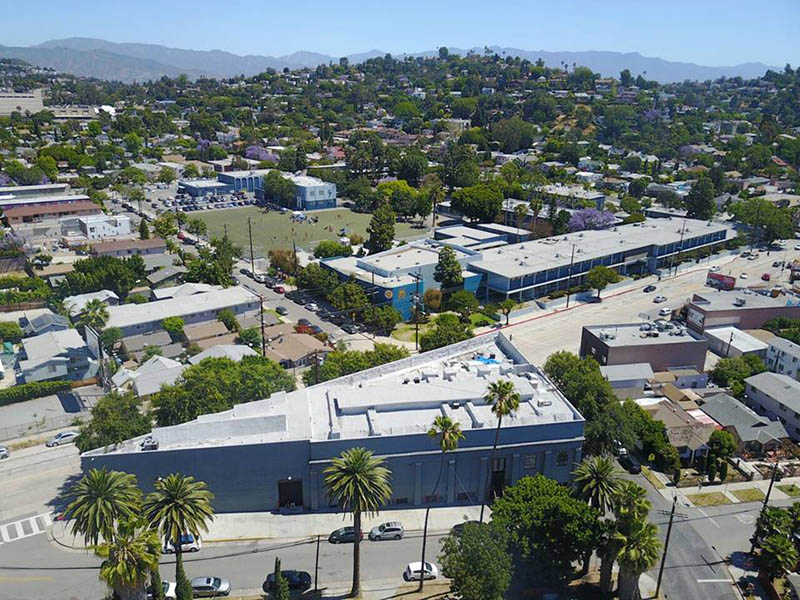 See Related: Inside The Revival of a Historic Los Angeles Soundstage
Our Los Angeles Soundstage
With two main sound stages in our 25,000 square foot facility, we have the space for your shoot or event. You'll never feel cramped or inhibited on our sound stages. Rather, you'll have the space to bring your Hollywood dreams to life. Equipped with a white cyc wall and a green screen, we offer the kind of technical amenities that serious Hollywood productions require. Light rails, fully adjustable, allowing you to completely tailor our soundstage to the unique needs of your production.
The two main stages in the 25,000 square-foot facility allows production teams ample space to bring their visions to fruition. Equipped with white cyc walls, dressing rooms, green rooms, and more, the studio offers all the amenities to ease teams through an efficient shoot or production.
Equipped for Artists
Treating talent appropriately is an important facet of a true Hollywood production. At our studios, we have the facilities that allow you to treat talent as they deserve to be treated. Our green rooms, vanity rooms and dressing rooms have the proper considerations deserving of Hollywood's elite. Quality catering makes certain that your talent feels welcome and appreciated. With ample parking and valet parking, everyone can get to and from our facility simply and easily. As all of this is taken care of, your talent and crew can focus on what's most important: your production or event.
Understanding that long shoot days require a kind staff and the comfort of hospitality is an important facet of our facilities. Our green rooms, vanity rooms, and dressing rooms have the proper considerations deserving of the talent and teams. Additionally, our staff offers quality and affordable catering packages, as well as ample parking options to ensure accessibility and efficiency for your event.
The Right Equipment
The proper equipment can make or break a production or other kind of Hollywood event. In the history of our studios, we used to house a shop that produced hand-painted backdrops. After that, our facility became a studio lighting and equipment company. Today, we offer equipment rentals at our soundstage. That way, you don't have to bring in equipment from elsewhere. Instead, with our equipment rentals, you can have the equipment you need right at our facility. It's one more way that we can make the process easier on your production. With our floor-level loading door, bringing the equipment in and out is simple as well.
Before Mack Sennett Studios existed in its current state, the studio once housed a shop dedicated to producing hand-painted backdrops, and then further down the timeline, the facility became a studio lighting and equipment company. Today, Mack Sennett Studios carries that history by providing equipment rentals at the soundstage for an all-inclusive production. Our facilities offer an extensive range and availability of equipment rentals beginning with grip and electric and production supplies, through an extensive variety of parts and pieces needed to fulfill your production. Alleviating the heavy lifting from loading and unloading the production, Stage 1, the 5,000 square-foot larger of the two stages, conveniently features a large elephant door and ramp to the street.  
Bonus: How To Get Into Film Festivals
As a Premiere Los Angeles Event Venue
In addition to being the creative space for so many artistic works, stages one and two serve as a world-class event space in Los Angeles. Thousands of guests have held their events at our facility. This is another area where our size comes in so handy: we can handle large events as well as more intimate ones. Movie premiers, large festivals and national conferences have been held here. Additionally, so have lovely birthday parties and small-family weddings. Our sound stage can become whatever you need it to be.
While the studios function as creative spaces for shoots and productions, they also double as distinguished event spaces. We've welcomed thousands of guests visiting the studio for all kinds of events including movie premieres, album releases, event fairs and festivals, national conferences, weddings and more. Mack Sennett Studio's sound stages have the capacity and malleability to be transformed into anything that your project or event requires. We'd love to discuss ideas and assist with the creation and logistics of your event, call us at (323) 660-8466 to learn how our sound stage can work for you.
Keep Reading: Our Historic Studios Are the Perfect Photo Shoot Space
–
Mack Sennett Studios is a historic full-service photography studio, production soundstage, and private event space in Silver Lake, serving as creative home to the Los Angeles cultural renaissance for the last 100 years. Check us out on Facebook, Twitter, Vimeo, Pinterest, Yelp and Instagram