The Phases of Film Production
Film production involves a huge amount of people power, as well as creativity and time. For a film to make it all the way to the eyes of viewers, it must go through several stages. From development to distribution, there are a few phases that shape films and make movie-going possible.
When it comes to filmmaking, people often focus on the filming itself – the shooting, or the production stage – where the cameras are rolling and capturing the action of the actors. However, there are five main phases involved in film production from start to finish: development, pre-production, production, post-production, and distribution.
Each phase involves its own set of challenges and rewards. Sometimes a film will never even find its way out of the first phase. You may have heard industry folks refer to a film being stuck in development hell.
That means a film company or studio may have bought the rights to a novel, but can't attach the director or lead they have in mind, or that a production team keeps tweaking a script ad nauseam until everybody bails from the project. Pre-production can be an exciting time, when everyone is enthused about being greenlit and inspired by the director's vision. There can also be bumps in the road, like if casting doesn't go according to plan.
When it comes time for shooting the film (the production phase), both crew members and the cast are amped to start working. People are ready to shoot scenes and get creative. All of the planning has led up to this point in the production process, and in a lot of ways, it's the meat and potatoes of film production.
Still, the project is not yet complete. Post-production is where a lot of that movie-making magic happens. The final key elements are added.
The film is cut together, and the music and visual effects are added. The last step film production process is distribution, which involves getting the completed film out in the world for an audience to see.
Let's take a deep dive into each of the film production phases now.
See Related: What is "montage" in the Hollywood sense of the word?
Development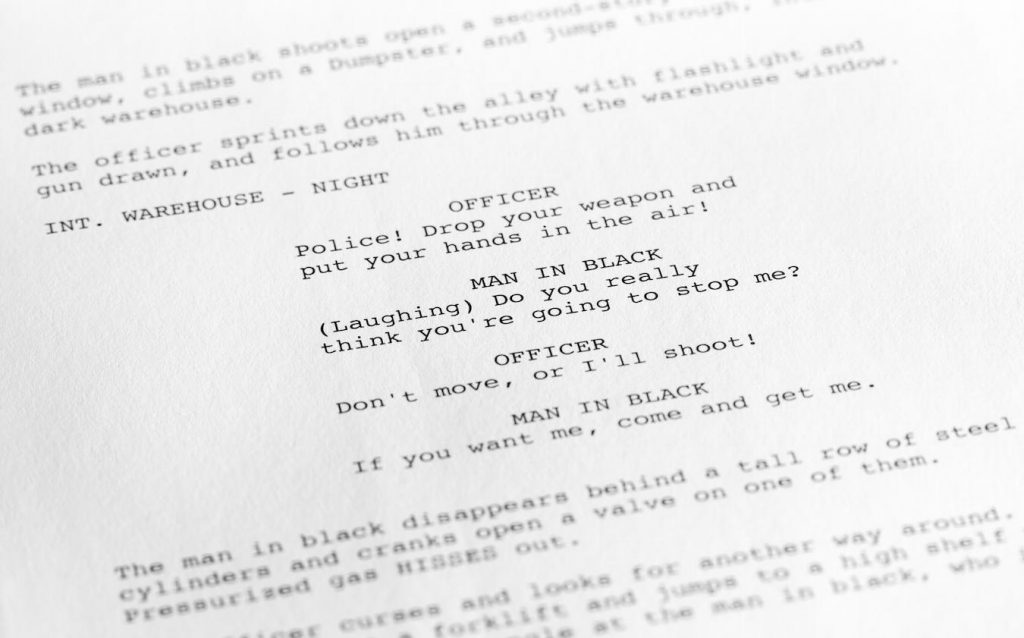 First there is the development stage, in which the initial concept and details of the movie are worked out. Someone has an idea or is writing an adaptation of an existing book or article. In this stage, a writer might pitch a script to a production company, producer, or other individuals who can finance a film.
Sometimes, the production company will seek out writers to draft a script for a project they want to pursue. Either way, the production team will keep the pieces moving and make sure there is money for the film. Financing is usually secured before moving onto the production phase, though some small or independent films may still be finalizing funding when production begins.
Pre-Production
The next stage in filmmaking is pre-production. If the producers aren't already working out of a production office, one will be set up for the purposes of this particular film project. Pre-production is the phase where all the filming details are figured out.
The roles are cast, locations are scouted, and the writing of a shooting script is completed. This is the time to hire a film crew, which includes roles like a unit production manager (who sets the schedule and oversees the budget), a set designer, a director of photography and other important pieces of the production puzzle. A production budget will be approved with input from various people in every department.
It is also in this pre-production stage that the director must convey their vision for the film, and work with the main players in each department toward that end goal. The look, sound, and feel of the film is something that requires planning and foresight so that once shooting begins, everything is as seamless as possible.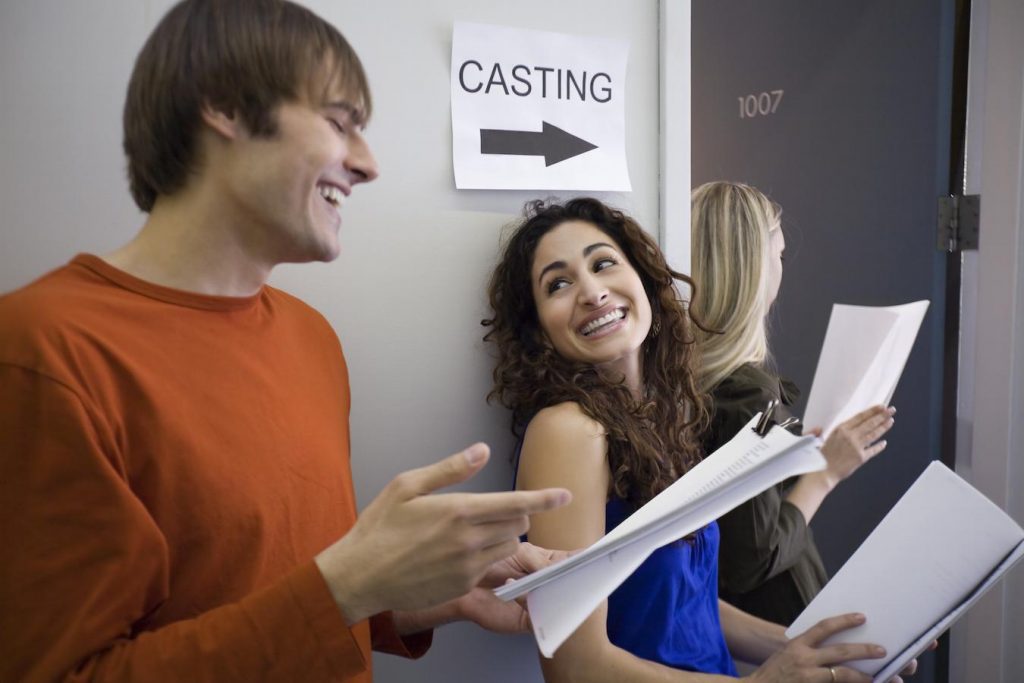 Production
Once pre-production has concluded, it's time to shoot! The goal is to stay on budget when planning everything related to the shoot. Communication is key during production, since schedules can be tight and even more people are getting involved.
During this time, producers will need to hire a script supervisor, whose main concern is continuity, and a prop master, who will manage all the props in the film.
Whether shooting on location or in a production studio, there is a shooting schedule to be followed. The Assistant Director (AD) manages this schedule among their other tasks, including being responsible for the health and safety of the crew. For the cinematographer to capture all the footage needed, they will work closely with the camera crew.
The production coordinator oversees catering, equipment rentals, travel arrangements, and the like. A producer will also keep an eye on all the moving parts.
Of all the stages of filmmaking, it's usually the production stage that will create the most budgetary headaches. Unforeseen obstacles, issues with a location, having to reshoot various scenes, or other related problems, can all come up on film projects and cause problems for producers.
As soon as the first scene is shot, it actually means that post-production can begin. Even as filming proceeds, editors are brought in to choose the best takes and begin compiling a rough cut. Sometimes a producer will want to have digital dailies (a video of the unedited footage shot that day) available for the cast and crew, so they can make any needed adjustments moving forward.
One of the best ways to understand all the moving parts of a production is to follow around a Production Assistant (PA), since they do a little bit of everything for everyone. You can watch this video of a day in the life of a PA:
Bonus: How To Get Good Audio When Filming
Post-Production
As mentioned above, post-production actually begins before the shooting ends. This is the phase in which the film truly takes shape. Post-production includes several creative decisions that make the movie-watching experience what it is.
How a film is cut together will influence pacing, and serve the story. Choices are made with music as well as visual and sound effects that enhance a viewer's overall experience.
Actors may need to come in and re-record their dialogue (often referred to as automated dialogue replacement or ADR) in order to capture the best sound quality, or to line up better with the footage. In post-production, editors and producers do whatever is needed to achieve the director's vision.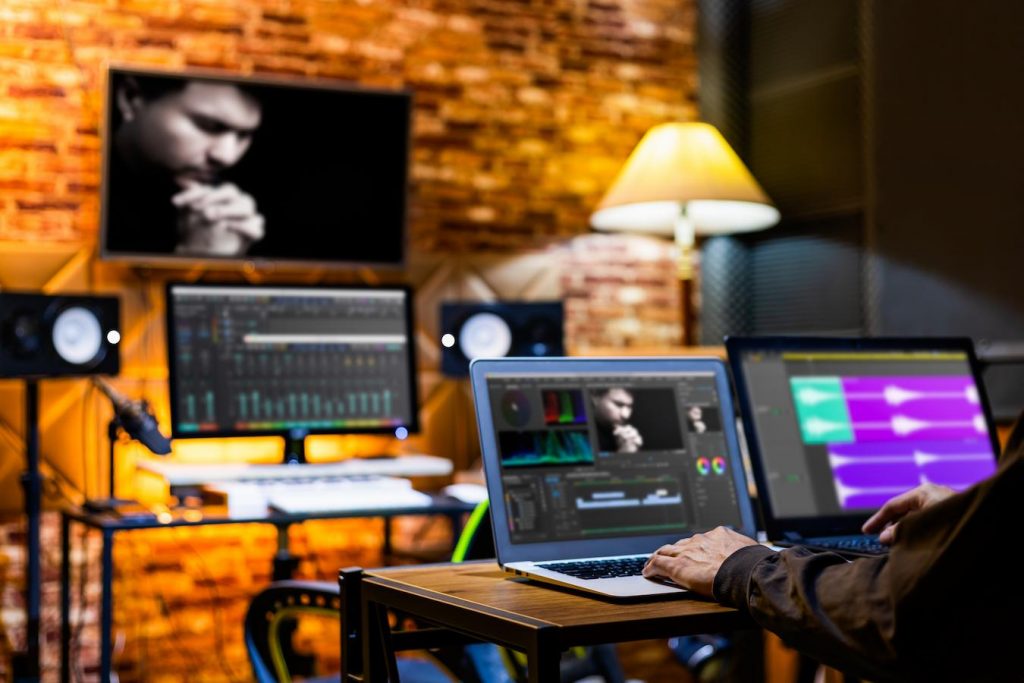 Distribution
The final phase of production is bringing that movie to viewers. This is what distribution is all about. Depending on the deal a producer has procured, a film might find its way into theaters or special release through a streaming service. If it's an independent film, it might be submitted to film festivals in the hopes of appealing to an audience and generating buzz. A film might make it to video or be released on an alternative media platform. Whatever the case may be, this is the last of the stages, and thus, concludes our story.
Keep Reading: How To Setup A Home Music Studio
–
Mack Sennett Studios is a historic full-service photography studio, production sound stage, and private event space in Silver Lake, serving as creative home to the Los Angeles cultural renaissance for the last 100 years. Check us out on Facebook, Twitter, Vimeo, Pinterest, Yelp and Instagram.